Description
☀️ Summer Sale ☀️
Save 40% on any course
Discount code: SUMMER40
Offer ends: 22/08/22 – 11pm (Monday)
Used and trusted by:

Unlimited tutor support

Personal assignment feedback

Flexible study – no deadlines

Staff training options

Help finding work

Help starting as a freelance

Delivering proven results since 2003
This proofreading and copy editing course has an outstanding track record in helping people begin new proofreading careers.
See the websites and profiles below of people we've helped become successful freelance proofreaders and copy editors. You could be next!
Proofreading course summary
Duration: Self-paced as long as you need

Accreditation: CPD | EADL

Quality endorsed by: The Quality Licence Scheme
Real success stories from real people
Felicity Yau kick-starts her proofreading career
Felicity graduated from our proofreading course earlier this year and is now running her own business as a proofreader and copy editor. She is one of many proofreading course learners to have gone on to a successful freelance career.
Staff training and group bookings
Book this proofreading course for staff training
Organisations including British Gas, Cancer Research UK, The NHS and Virgin Media have chosen this proofreading and copy editing course to train individual staff members and whole teams.
The course is designed to be completely flexible, which gives staff members the freedom to fit their studies around their other duties, and apply their new practical proofreading skills directly to their jobs.
Interested in booking this proofreading and copy editing course for yourself, an individual staff member or multiple members of your team? Please call us on 01243 930353 or use the 'enquire now' button below to submit a written enquiry. We look forward to hearing from you!
Read the proofreading and editing course overview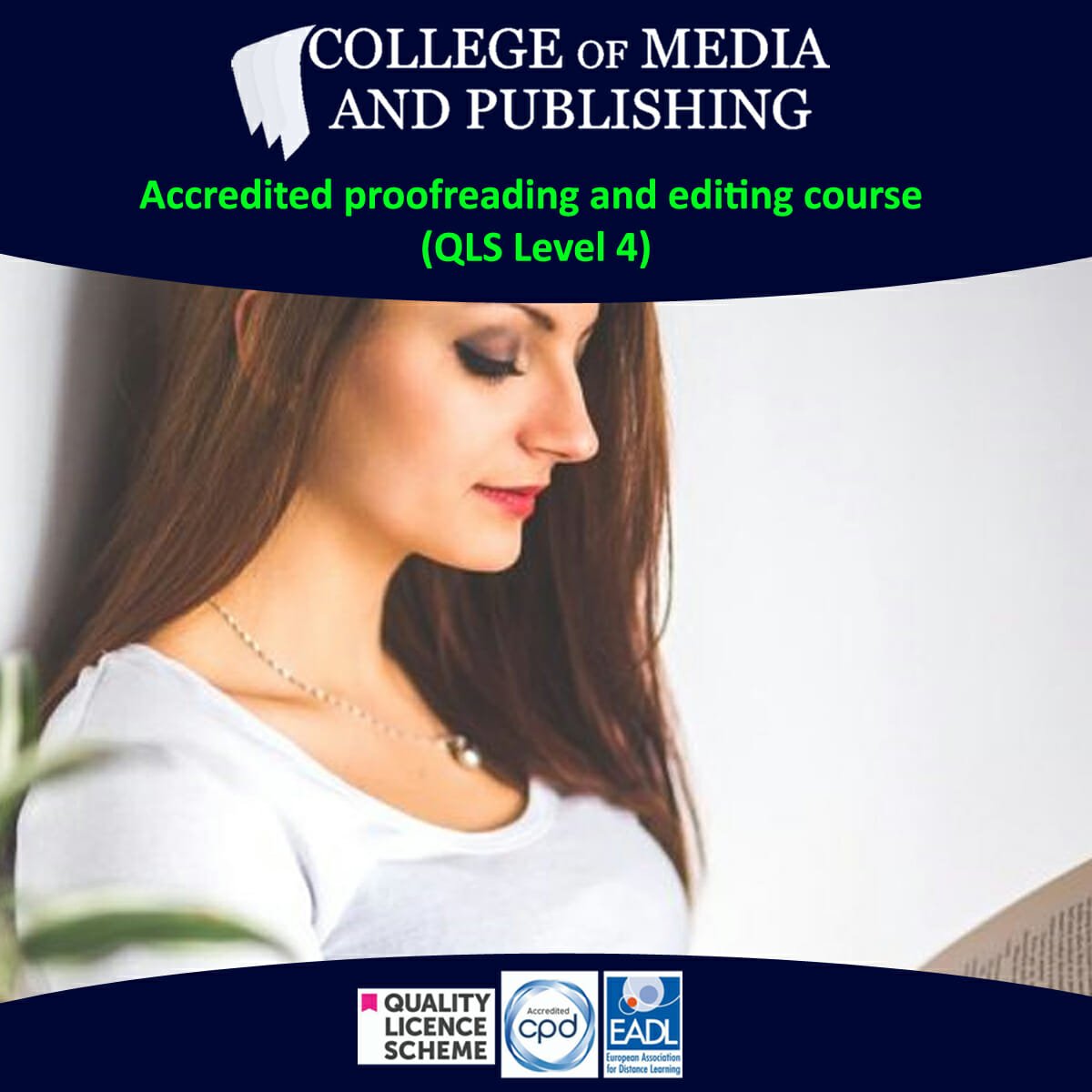 Proofreading course subjects | Proofreading course reviews | Proofreading course success stories
Our proofreading and editing course will equip you with the editorial skills you need to become a certified proofreader and copy editor.
This online proofreading course will show you how to correct printed documents and webpages, and make them readable and legally compliant.
Many leading corporations including British Gas, Cancer Research UK, Lloyds Bank, the NHS and Virgin Media, use this practical proofreading course to train their staff. And many individuals testify that it is effective and great value for money.
Successful proofreading course graduate Judith Manville, who is now working as a full time freelance proofreader and copy editor from her home in France, told us she thought the tutorial support was "superb." Read her full review
Another recent graduate, Chantal Da Costa, who is a content and features writer for Yello Media Group (formerly Yell) told us: "I learned so much
from this course. I am now able to review the work of my coworkers.
I have a better appreciation for: proofreading, grammar, spelling, the rules of style,
how to create an in-house style and the levels of copy editing." Read more learner success stories
Who is this proofreading course for?
This accredited online course is ideal for:
People who want to learn proofreading and editing from scratch.
People who want to start a freelance business.
Staff training and development.
People who want to create a new income stream.
Proofreaders and copy editors who want an endorsed award to attract more clients.
People from teaching backgrounds who want to change careers or create a new income stream.
Website and blog owners who need to check their own content.
Writers who need to produce error-free copy.

Summer Sale – Save £197.80 on this course!
You can save £197.80 (40%) on this course until 22/08/22 – 11pm.
This accredited proofreading and copy editing course is completely flexible, which means you can take advantage of the sale price and begin learning when you choose – even if it's not until later in 2022.
Discount code: SUMMER40 | Offer ends: 22/08/22 – 11pm (Monday).

See what this proofreading course teaches
Our comprehensive proofreading and editing course will teach you how to:
Proofread and copy edit documents, either in print or onscreen.
Apply style guides and BSI proofreading symbols.
Make written content easier to read.
Set up a freelance business and find paid work.
See a full list of course subjects
We have a proven track record in helping our proofreading and editing learners find work, set up as successful freelancers and learn new skills to use in the workplace.
See some examples below, and you can read lots more success stories on our proofreading and editing news feed
There is an unprecedented demand for skilled proofreaders and copy editors.
Each year, companies and organisations produce millions of documents and webpages that contain errors and inaccuracies. This affects their reputations.
They need certified proofreaders and copy editors to work on:
Reports, letters, emails and business documents.
Website content, blogs, white papers and materials for brand advocacy.
Books.
Commercial copy and sales literature.
Brochures, leaflets and magazines.
Our proofreading course covers all these areas and many others.
It is one of the most comprehensive and up to date proofreading courses on the market. See all course subjects
You will study in our Online Learning Area, which is accessible from a computer or a mobile app.
This means the course is flexible, and gives you the chance to tackle practical, real-world proofreading and editing tasks at home, at work or on the go.
You will also benefit from unlimited tutor support every step of the way, including personalised feedback on every assignment.
Successful proofreading course graduate Peter Fullagar told us: "The tutor support makes the course outstanding.
Excellent feedback given in a timely manner. The course content went beyond what I was expecting." Read his review
As a certified proofreader and copy editor, you could be:
Raising the quality of your organisation's content.
Working in a specialised area, such as legal, medical, academic or scientific publishing.
Running your own freelance business.
If you have a keen eye for detail, becoming a proofreader and copy editor is a great way to earn good money.