Online professional certifications
You receive the following awards when you complete one of our online courses:
ABC Awards and Certa Awards certificate of achievement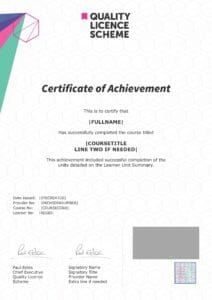 The certificate of achievement is issued under The Quality Licence Scheme, which is product of  ABC Awards and Certa Awards, who endorse high-quality, non-regulated courses and training programmes.
ABC Awards and Certa Awards are leading national awarding organisations who both have long-established reputations for developing and awarding high-quality vocational certifications.
Course completers also receive a learner unit summary, which lists the subjects they have studied.
Our courses have been benchmarked at Level 3 or 4 against Ofqual's level descriptors.
CMP diploma
Our accredited diploma is widely recognised in both the UK and overseas.
Many students have received the diploma since 2003, and have gone on to rewarding careers.
You will find our graduates in more than 100 countries, and in every time zone.
CMP Charter Mark
Our Charter Mark provides assurance of educational and professional quality. We award it to successful learners who have achieved set standards of competence and professionalism.
Holders can use it on their stationery, websites and social media profiles.
The Charter Mark demonstrates that holders have:
been trained by an accredited college
studied using up-to-date materials
had their work rigorously assessed, and graded according to industry standards
been trained by an experienced tutor who is recognised in their field
achieved an ABC and Certa Awards certificate after ongoing assessment of their work
maintained good standards of etiquette during their studies