Public relations course subjects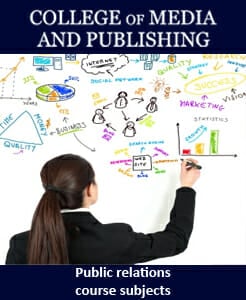 This vocational course covers every aspect of public relations. Each lesson includes a practical assignment which is based on the real world of public relations. All assignments are personally marked and graded by your tutor, so you'll be receiving expert feedback at each stage of the course.
Lesson 01: An introduction to PR
Understand the role of public relations.
Recognise good and bad PR.
Appreciate what makes a good PR professional.
Learn how to build relationships with journalists.
Lesson 02: Newswriting techniques
Discuss why a PR needs to master newswriting techniques.
Write intros, sells and headings.
Write well-constructed copy.
Adapt your writing style to suit a web audience.
Lesson 03: Writing effective news releases
Recognise when it is appropriate to use news releases and news letters.
Send news releases and news letters in the correct format to the right outlets and at the right time.
Lesson 04: Communicating with the media
Issue effective statements to the media.
Conduct interviews with journalists.
Deal confidently with journalists' questions.
Lesson 05: Online PR
Understand the basics of social media.
Define how social media can be used in PR.
Devise a social media plan.
Set up, maintain and grow your own blog.
Identify when a PR can use video.
Understand how to prepare, shoot and edit videos for PR.
Lesson 06: Handling a crisis
Understand crisis communications.
Write a crisis communications plan.
Manage reputation in a crisis.
Tweet effectively during a crisis.
Lesson 07: Using TV and radio
List how TV and radio can be used for PR.
Produce suitable content for TV and radio.
Lesson 08: Organising a news conference
Understand the role a news conference plays in PR.
Organise and manage a news conference.
Lesson 09: Law and reputation management
Learn how media law and regulatory codes can be used as media management tools – pre- and post-publication.
Manage online reputations proactively and reactively.
Lesson 10: Using other PR tools
Recognise other PR tools and when to use them.
Use case studies, white papers, ebooks, videos and podcasts for PR.
Lesson 11: Running a PR campaign
Learn when and how to run a PR campaign.
Select the right campaign components.
Organise an effective PR campaign.