Description
Self-publishing level 4 diploma
An effective publishing course for individuals and businesses
Course summary
Organisations who use our courses:
Course overview
Our self-publishing course equips you with the skills you need to publish your manuscript as an ebook or paperback. Self-publishing is highly satisfying. It can also bring financial rewards.
Our online self-publishing course takes you through each stage of the process. We help you harness your existing knowledge of word processing software to format your manuscript.
You will also learn how to design and create a beautiful cover.
We then show you how to publish your book on the main e-platforms and
effectively market your work to maximise your sales.
You will benefit from the training we offer no matter what stage of the writing process you are currently at, from experienced author to complete beginner. We can also help you if you want to earn money publishing other people's work.
You will enjoy full support throughout from a tutor who has successfully published books on Kindle and CreateSpace, using the very techniques you will learn during the course.
What will I learn?
Our comprehensive self-publishing course teaches you:
The key features of self-publishing and why it could be a great option for getting your book in to print.
Formatting and editing manuscripts to a publishable standard.
The right way to prepare your manuscript for publication, including writing a blurb and author bio.
How to upload and publish your ebook or paperback.
The power of the author "brand" and how you can drive sales of your published book.
You will benefit from unlimited tutor support from Jennie Harborth, who is a professional editor and proofreader. She will help you every step of the way.
She will also give you personal feedback on every assignment, answer your questions and provide expert careers guidance, so you get the very best out of the course.
When you graduate, you will receive the ABC Awards level 4 diploma in self-publishing. It proves you are a qualified self-publisher. ABC Awards is regulated by Ofqual.
Qualifications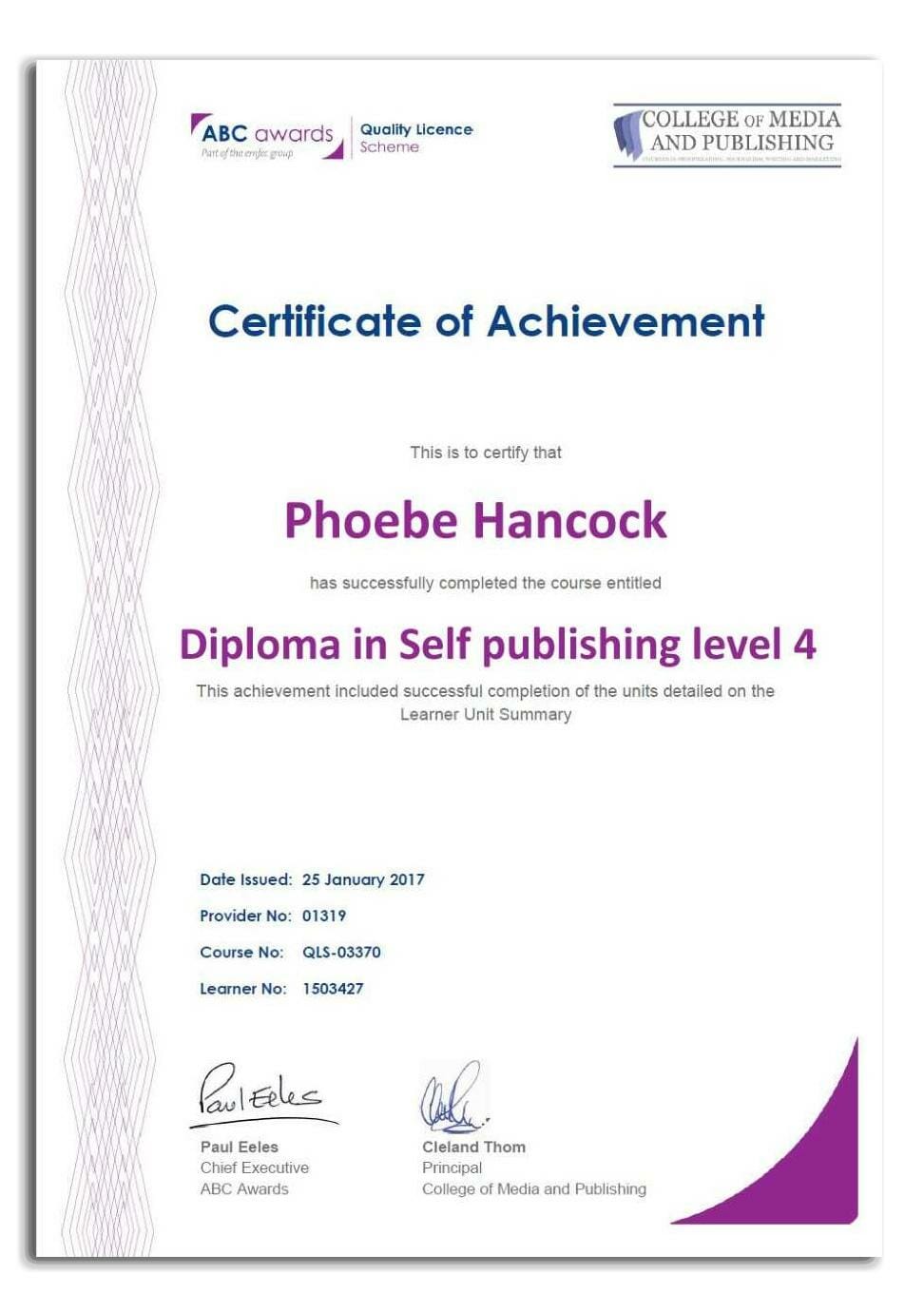 Our self-publishing course has been independently endorsed under the ABC Awards' Quality Licence Scheme. So, when you finish, you will receive the ABC Awards level 4 diploma in self-publishing, and a learner unit summary. This lists the subjects you have studied.
The ABC diploma guarantees that you have been assessed at level 4 standards, and are competent to practise. ABC Awards is a leading national awarding body, and is regulated by Ofqual.
In addition, you will receive the fully accredited CMP diploma in self-publishing, which is recognised in the UK and beyond. It proves you are a qualified self-publisher.
These awards will equip you to apply for self-publishing jobs, learn new skills to use at work or find freelance work.
Self-publishing course tutor: Jennie Harborth
Editor | proofreader | designer
As a self-publishing course learner, you will work 1-2-1 with Jennie Harborth, who is a professional editor and proofreader.
Jennie has formatted, designed and edited most of CMP's ebooks and printed publications.
She is an experienced tutor and has been involved in programming, graphic and web design, photography, art, proofreading and copy editing.
She will mentor you, mark your assignments, and give you expert advice.
Find out more

Self-publishing course subjects
This vocational course covers every aspect of self-publishing. Each lesson includes a practical assignment, based on real-world self-publishing.
Every assignment is personally marked and graded by your tutor, so you'll receive expert feedback on your progress.
Who is this course for?
Our self-publishing course is suitable for over-16s of all abilities.
We regularly work with:
Beginners who have written a book but don't know how to get it published.
Authors who want to raise their profiles and attract the attention of traditional publishers.
Experienced business people who want to build their reputations as experts in a particular niche or field.
Writers who want to take the first step towards an exciting career or hobby as a published novelist or nonfiction writer.
Enthusiasts who yearn to fulfil their writing ambitions on their own terms.
We have an excellent reputation working with disabled learners, and people who are housebound or terminally ill.
Access to our resources library
You will have free and unlimited access to our extensive resources library. It contains downloadable podcasts, videos, ebooks and tips files to help your career.
This is in addition to your comprehensive course materials and tutor support.
International students
You can study this online course wherever you live.
 We have students in more than 100 countries. And you can trust us, as we are accredited by two international accrediting bodies:
Both organisations promote excellence in worldwide online study, so international students can verify our quality before they enrol.
Accreditation and quality
We comply with the very highest external standards. We are:
Each organisation has its own standards, code of practice and complaints procedure, so you can enrol with complete confidence.
Course reviews