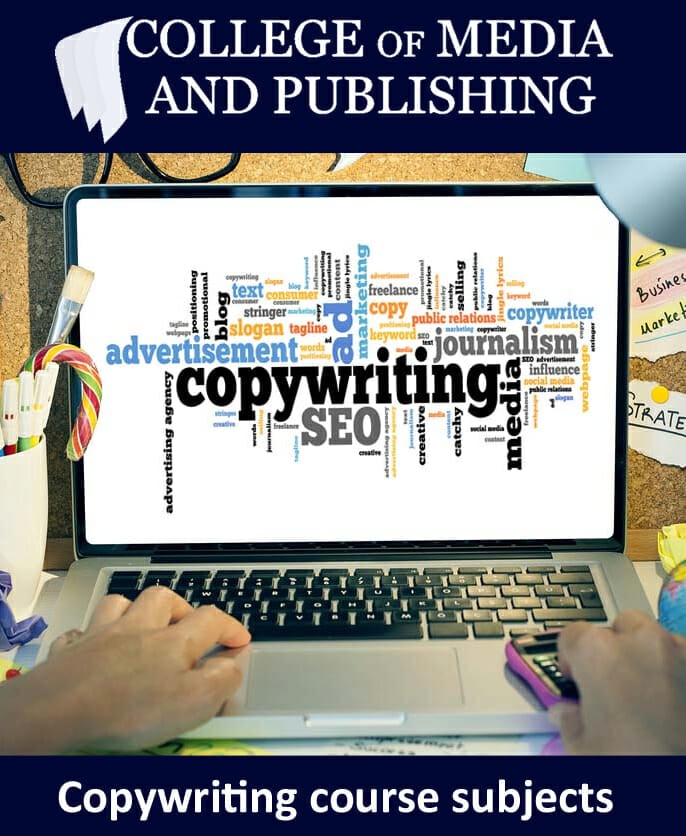 This vocational course covers every aspect of copywriting. Each lesson includes a practical assignment which is based on the real world of copywriting.
All assignments are personally marked and graded by your tutor, so you'll be receiving expert feedback at each stage of the course. Your tutor will also be on hand to answer any questions you may have throughout the course.
Lesson 01: Copywriting basics
Examine what a copywriter does, and the qualities they need.
Describe different types of copy.
Explore tone of voice.
Recognise different good and bad copy.
Lesson 02: Copy presentation
Submit copy to various platforms in recognised formats.
Create an industry-standard cover sheet.
Lesson 03: Researching your subject
Carry out fast and effective internet and social media research.
Apply internet and social media research skills to a practical scenario.
Lesson 04: Terminology
Identify specialist copywriting terminology.
Locate online glossaries.
Translate common terms in to layman's English.
Lesson 05: Industry codes of practice
Explain the need for codes of practice within the copywriting industry.
State where to find the relevant codes online.
Demonstrate a basic working knowledge of the codes and how to apply them.
Lesson 06: How to write great copy
Define the qualities needed to make copy attractive and effective.
Explain the need to write with your reader in mind.
Explain the importance of good spelling, grammar and punctuation.
Define the techniques that apply to most spheres of writing.
Apply these techniques to a range of practical exercises.
Lesson 07: Effective headings
Explain the qualities of an effective heading.
Describe the principles and techniques involved in writing headings.
Apply these techniques to a range of practical exercises.
Lesson 08: Advertising content
Define what an advertising feature is.
Explain why advertising features are used and why they can be effective.
Explain how to choose original subjects for advertising features.
List the writing techniques used to make advertising features effective.
Explain what advertising copy is and where it's used.
Define the qualities that help advertising copy have impact and success.
Write pieces of advertising copy for a selected market.
Lesson 09: Direct mail and email
Explain when direct mailshots can be used effectively.
Define the qualities that help direct mail copy to have impact and success.
Explain how headings can be used effectively.
Define how email shots are different and the qualities needed to make effective use of them.
Write direct mail copy for a selected market.
Lesson 10: Email marketing
Explain what email marketing is and what it's used for.
Describe the qualities of effective email marketing.
Write a great subject line.
Explain how to use ebooks, whitepapers and other marketing material as incentives.
Write email marketing copy for a selected market.
Know how to create automated emails.
Understand email marketing's role in sharing long-form content.
Lesson 11: Press releases
Define the qualities that help press releases to have impact and success.
List the occasions when the use of press releases is appropriate.
Define the importance of a press letter and when it can be used effectively.
Explain the importance of presenting, and sending, press releases correctly.
Write press releases for a selected market.
Lesson 12: Press advertisements
Understand what a press ad is.
See the briefing process and your role within it.
Work on the four key elements of an ad.
How to write a press ad.
Write for business to business (B2B) publications.
Lesson 13: Sales pitches, presentations and proposals
Explain and use techniques for writing copy which companies use to promote themselves and their businesses, including:

Pitches.
Presentations.
Proposals.
Lesson 14: Brochures and Leaflets
Understand what brochures and leaflets are and how they compare.
See why a business would choose either a brochure or a leaflet.
Identify the key elements included in brochures and leaflets.
Write content for a successful leaflet.
Produce a brochure containing the main components.
Lesson 15: SEO content and articles
Explain what an SEO article is and what it is intended to achieve.
List the stages involved in writing an SEO article.
Demonstrate how to identify key search words.
Explain how to use keywords in an article.
Apply these objectives to a range of practical exercises.
Lesson 16: Social media and blogs
Understand the basics of social media.
Discuss the differences and similarities between social media sites.
Discuss the copywriter's role in social media marketing.
Explain how to write social media copy.
Know what a blog is, and how to start and maintain one.
Lesson 17: Pay per click ads
Understand what a pay per click advert is.
Look at pay per click advertising across the web.
Gain an understanding of the importance of Google AdWords.
Write an Google Ads advert with keyword identification.
Help clients with Google Ads and earn a living.
Lesson 18: Newsletters
Write and compile a newsletter.
Understand what is included in a newsletter.
Compile newsletters for a specific audience.
Explain the relevance of newsletters to ecommerce.
Write and compile a newsletter.
Lesson 19: Brand names and outdoor advertising
Understand how to develop a brand name.
Write a brand strategy.
Find out where outdoor advertising is relevant and how to engage with it.
Lesson 20: Finding work and developing your career
List strategies for promoting your web presence.
Select appropriate ways to start finding copywriting and editing work.
Explain how to negotiate fees and tie up details of copywriting jobs.
Learn about simple accounting and registering as a self-employed copywriter.